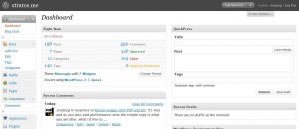 Since the new version of WordPress is due this month i decided i should take a look at the recently released beta 1. So, i set up a small test copy of my blog and upgraded to 2.7. To be honest i expected hell to break loose with all the "ready" posts i read all over the blogosphere "Make your blog 2.7 ready", "Make your theme 2.7 ready" etc. So, naturaly, i was prepared for everything. Surprisingly, nothing actually happened! It all went smooth, upgrade was fine and in just a few seconds i was on the homepage of my test blog that was exactly the same as the one with the current version (2.6.1).
Since everything was fine, i decided to take a look around and check out the new WordPress. So, please put your hands together for an excellent job from the Automattic team! I know i've been nagging for the redesign but i am so happy i was wrong. The design is perfect and actually more professional than ever, if i might add.
I have some comments i want to make on the design. Let's start with the neggative ones. First of all the new posting screen got a nice change. Almost everything moved to the right side (category management, etc). The publish button just disappeared. It seems that the WordPress team was puzzled with the scheduling system. It looks like it wasn't that obvious on how to do it for most users so they tried to change the way it's done. I remember a relevant question on the survey they did about two months ago about what the button should be labeled. And what they decided? The have a button called "Save draft" and another one called "Schedule post". Now, if you want to post immediately, you just leave the current date, else you change the date. Now, i was confused :roll:. I mean, if you want to make it absolutely clear then why not have two buttons or something?
Secondly, i really miss the "Manage" tab. The editing of stuff is really scattered all over the place. Actually, if you want to manage your posts, you expand the "Posts" menu and you have an "Edit" option. If you want to do it for your pages then you expand the "Pages" menu and, again, you have an "Edit" option. And so on. Now, this is actually a different way to approach the same thing, giving the users the way to edit their stuff. But, i think that a "Manage", expandable, menu would be even better since i beleive that having them all in one place would help out better. Actually, i often visit the "Manage" tab and do things all together (publish a draft and then update a page for instance).
One plugin that i really find usefull is "Absolute Comments" by Ozh. The "Reply" Ajax feature from the comment management is what i use the most. Now, i read from Ozh himself that the Reply feature would be on the post edit (which is actually true) and i expected to see it on the management too. I was wrong. I feel that this is a must feature and till then, Ozh keep 'em coming!
One final little thingy and i'll quit nagging. I clicked on the "Media" menu and i expected to see a full list of my media uploaded to date and a way to manage them. Instead, there was an upload form. Now, that's not bad but i think the management is still missing.
Anyway enough with the "this is not right" and "that is missing". I must admit that the new dashboard is even better than the previous one. All you need to know is there with the glimpse of an eye. Very nice job on that one guys. One more impressing thing is the built in way to arrange the dashboard widgets the way you like it with a simple drag and drop. The rss feed boxes on the bottom are gone and are converted to a very nice and simpler widget that actually puts the feeds on a simple list.
I would like to say one more thing before i wrap things up with this post. There was a small hickup with the "Download Monitor" plugin. That is that the dashboard widget gets a warning and actually doesn't work. The way i see it is that probably the way that WordPress handles dashboard widgets and passes arguments to them. I already sent an email to the author and i hope he get's to it.
All in all, the new version seems exciting and i am looking forward on the release. If you think that i am wrong in any way on any of the above, as always, feel free!