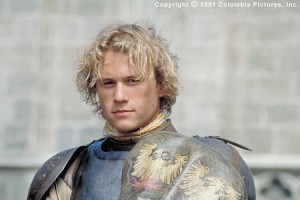 On January 22nd 2008, a very shocking event took place. The very popular actor, Heath Ledger, was found dead on his New York apartment in SoHo. I read about it a couple of days later and was rather shocked. He was a very young man and there was a mystery around his death. A few weeks later, it was found that his death was caused due to accidental overdose of prescribed medication (my source is IMDB). He was an actor i really admired and never took the chance to take a look at his bio. After a whole year, i feel like writing this small post on his memory since i liked him alot. The info below are actually a small sum of what i found on the net (especially IMDb) on him.
I originaly saw him on the movie "A knight's tale" (2001) where he played the part of Sir William Thatcher (or as he was also named in the movie Ulrich Von Lichtenstain). I like middle-age movies and this one combined that era with today's music and style. I think that this part must have been among his best ones of all times. Moreover, in my opinion, it reflects, in a way, his way of evolving into a Hollywood superstar.
He is from Australia and started humbly trying to cast for many movies. His general approach was to do new things and turn down anything he thought was not worth it. He didn't like repeating things that have gone well just because it would be the easy thing to do. He is quoted saying:
I only do this (acting) because I'm having fun. The day I stop having fun, I'll just walk away. I wasn't going to have fun doing a teen movie again…. I don't want to do this for the rest of my life….I don't want to spend the rest of my youth doing this in this industry. There's so much I want to discover.

– Vanity Fair (August 2000)
One of his final parts was the "Joker" on the Batman movie "The Dark Knight". He died during the post-production state of the movie and thus it is dedicated in his memory. For this part he is nominated for an Oscar on this year's Oscar awards and it is believed he will win it.
On his personal life, he has a daughter with Michelle Williams (very well known from "Dawson's Creek"). They had a very nice relationship but had a divorce a while back before his death. Their jobs took them apart as it seems to be. Everybody had a nice word to say about him and he was really loved among the actors and crew. I would like to say that i am truly sorry about his death and i believe that the movie making bussiness lost a valuable member and a great actor. Rest in peace…