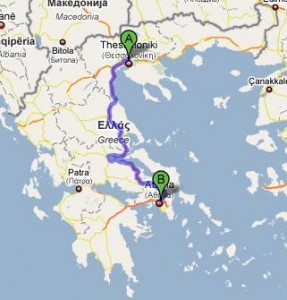 It's been a while since i posted some photos but it's been a while since i've gone somewhere! So, this time we all went to Thessaloniki (point A on the map). We followed the road as noted. It's actually a 5 hour trip, without any stops you have to make in the middle. It's quite a pleasant trip especially if you do it by car.
A very nice place to make a stop is the Tempi valley, which is actually after Larissa. Some of my Greek friends must know what i am talking about. The river "Pinios" is going through mountain Olympos and a very nice and attractive tourist place has been shaped on that area. Also, there was a cave where St. Paraskevi used to live, far away from everyone, and now there is a nice Church. So, there i was with my camera. I really took alot of pictures from that place.
You can see all the pctures of the trip (99% percent of them beeing from the Tempi valley) here. Hope you all like them!